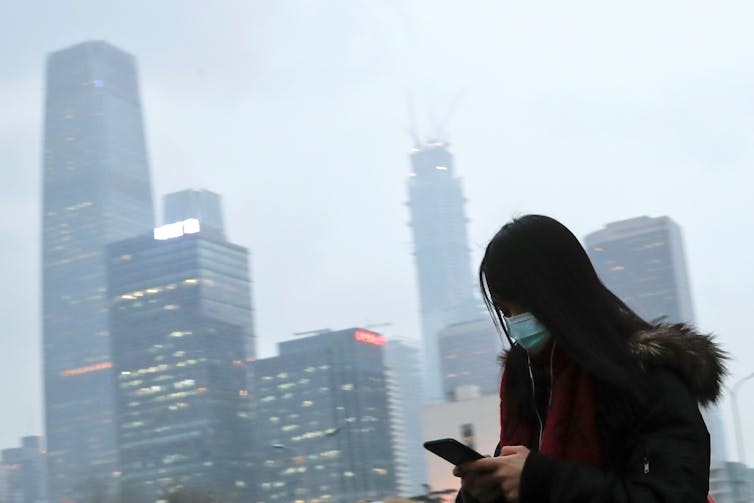 James A. Holtkamp, University of Utah
Two congressional committees led by prominent Republicans are looking into whether some U.S. environmental groups are acting on behalf of foreign countries.
As an environmental lawyer and professor with ample international experience, this probe troubles me. I'm concerned that these efforts may mark the start of an attack on free speech that discourages efforts to improve American environmental policies.
The probe
News of this investigation broke when Rep. Rob Bishop, who chairs the House Committee on Natural Resources, and Rep. Bruce Westerman, who leads the Subcommittee on Oversight and Investigations, formally notified the Natural Resources Defense Council of their concerns in early June.
Their letter accused the NRDC, one of the nation's biggest environmental groups, of criticizing U.S. environmental policies while engaging in "self-censorship" regarding China and the "ruling Chinese Communist Party." If it is acting as an agent for Chinese interests, the lawmakers said, the group should register as such as required by law.
Their letter also requested information related to the group's disclosure policies.
Bishop and Westerman sent the Center for Biological Diversity a similar query pertaining to that environmentalist group's advocacy regarding the U.S. military base in Okinawa, Japan.
And the two Republicans have asked the Pentagon for details and documents regarding the nonprofits suing the military on environmental grounds. The lawmakers acknowledged that these lawsuits may "represent sincere and justified concerns about the effect of federal actions on the environment." But they also speculated that "foreign adversaries" can perhaps leverage these legal actions to "reduce U.S. defense capabilities."
Bob Deans, the NRDC's director of strategic engagement, denied that it was doing a foreign country's bidding. Instead, "we work on behalf of every American to protect our people against dangerous pollution and leave our children a livable world," he said.
Rather than just refute the allegations, Center for Biological Diversity Executive Director Kierán Suckling questioned the motives for this investigation. He called on Bishop "to release all communications between himself and industry groups seeking to destroy America's natural heritage" and suggested that the Utah Republican was attacking conservation groups at the behest of fossil fuel companies.
The probe could spread to other environmental groups, The Hill reported.
Chinese activities
The NRDC is a U.S.-based nonprofit with offices around the globe with an official mission "to ensure the rights of all people to clean air, clean water, and healthy communities."
The group's priorities in China are generally the same as what it calls for in America and elsewhere: boosting energy efficiency, cutting coal consumption, and cleaning up ports and waterways.
I am somewhat familiar with the NRDC's work in China because I traveled there in 2014 with two other U.S. environmental lawyers at the NRDC's request. The group had asked us to meet on an informal basis with Chinese government officials. The purpose of these meetings in Beijng was to explain how the U.S. government handles violations of environmental laws and damages to natural resources. In light of China's own "war on pollution," their government was looking for good models and guidance.
The National People's Congress subsequently amended Chinese environmental laws, incorporating some of the concepts we discussed – all of which were modeled on the U.S. legal system.
There was no hint or suggestion during those meetings that our access to Chinese officials was conditioned on anyone speaking favorably of China's environmental efforts. Nor was there any reason to expect the NRDC to take any particular political stance back home in the U.S. because of those interactions.
Not surprisingly, the NRDC has complimented China for strengthening its environmental laws. But the NRDC has also criticized China's staggeringly dirty air and water and its vast greenhouse gas emissions.
At the same time, the NRDC has gone out of its way to oppose the Trump administration's environmental deregulation policies – like most of the nation's big green groups.
Okinawa dugongs
The Center for Biological Diversity allegedly inappropriate overseas activities have to do with dugongs. The endangered marine mammals, which resemble manatees, inhabit the waters surrounding the Okinawa Islands.
The center, which opposes U.S. military plans to build a new American airbase in Henoko Bay, has been leading coalitions of U.S. and Japanese environmental groups that have filed lawsuits that have delayed and could prevent the planned airbase construction.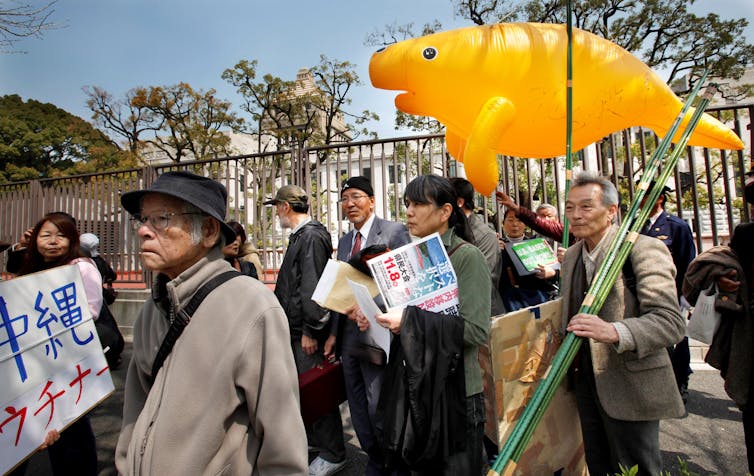 The letters to both green groups call on them to comply with the Foreign Agents Registration Act. That law requires all people and organizations acting in the U.S. on behalf of foreign countries to register with the Justice Department as foreign agents.
Failing to do this is a crime, but prosecutions have been rare since 1966. The case against former Trump presidential campaign chairman Paul Manafort and his aide Rick Gates, who are accused of violating this act, is the biggest in years.
I believe that requiring these groups to register as foreign agents might hamper their work within the U.S. for two reasons. First, policymakers and lawmakers might suspect that they were more interested in working on behalf of foreign governments and interests than protecting the environment. Second, there could be repercussions in terms of these nonprofits' funding, finances and reputation.
This new GOP strategy can be compared to red-baiting, the practice of persecuting and undermining people by accusing them of being communists, socialists or anarchists, that began in the Cold War. I believe these Republicans are "green-baiting" environmental groups to persecute them. At the same time, they are casting doubt on the real goals of these groups' advocacy, thereby undermining it.

Ultimately, the most dangerous thing about this probe may have to do with free speech rights. Because praising a foreign country's environmental record while criticizing U.S. policy is possible without committing treason, the only rationale I can find for this investigation is that it might stifle environmentalists.
James A. Holtkamp, Adjunct Professor, College of Law, University of Utah
This article was originally published on The Conversation. Read the original article.